Blog
Posted by Bodrum LLC on
Popular Uses for Large Size Tote Bags
Posted by Bodrum LLC on
Reusable Canvas Tote Bags In the ever-evolving world of fashion and practicality, the reusable canvas tote bag has emerged as a versatile, eco-friendly, and stylish accessory that perfectly suits the needs of today's individuals. Far from just a simple carryall, the modern tote bag has undergone a transformation, becoming an essential item for daily life. In this article, we'll explore why tote bags have become indispensable in contemporary society, highlighting their versatility, sustainability, and fashion-forward appeal. Versatility One of the key reasons tote bags are thriving in today's world is their unparalleled versatility. Unlike traditional handbags or backpacks, totes seamlessly transition...
Posted by Bodrum LLC on
Canvas tote bags are a stylish and practical option for carrying items such as books, tablet, laptop, papers, wallet, keys etc on the go. Reusable canvas bags are made from a heavy-duty cotton fabric that is known for its durability and strength. They are versatile and can be used for a variety of purposes, such as grocery shopping, school, weekend, beach, picnic, travel, and carrying everyday items. On the other hand, The best advantage of canvas bags is their durability. The cotton canvas material of these bags makes them suitable for heavy use and able to endure the daily wear. They are also resistant...
Posted by Mesut AYDIN on
Our Wholesale Burlap Jute Bags made from naturally 100% bio-degradable and eco-friendly jute burlap fabric with soft cotton webbing handles. Lightly laminated in the inside. Jute bags are designed for a long time use. Custom printed jute tote bag has plenty of space with its clear and large surfaces. Our Burlap Jute Bags are great for heat transfer vinyl personalization.  If you need a nice gift bag for wedding party, bridal bridesmaid favor, home decoration, birthday party, everyday shopper grocery or beach, burlap jute bags are great alternative for you. Custom personalized bags add a elegance touch to your gift ideas. If you have a business and...
Posted by Mesut AYDIN on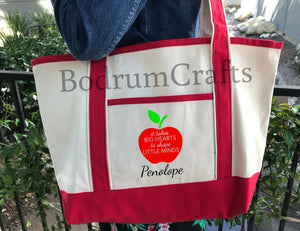 What is a Teacher Bag? A teacher bag is a bag specifically designed for teachers to carry items they need for their work, such as lesson plans, books, tablet, laptop, and classroom supplies. It is typically made of canvas fabric and more durable than a typical cotton tote bag, and may have features such as multiple compartments and pockets to help organize the contents. Which Type of Bag is Best for Teachers? The best type of teach bag will depend on your personal needs, individual preferences, style, items that need to be carried. Also, here are some points that should...
---