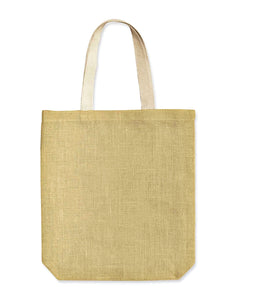 Burlap Jute Shopper Tote Bags, Everyday Totes Bulk
Burlap Jute Everyday Tote Bags Wholesale. Burlap Reusable Bags in Bulk Low Prices.
Description
Burlap Jute Fabric Tote Bags 

with strong cotton webbing handles.

Color of Bag : Natural
Size  15

" x 16" x 3"

Our bags are 100% bio-degradable and Eco-friendly.
These jute totes are sustainable alternatives to plastic bags.
Our bags can be screen printed with heat transfer prints.
Jute bag is popular product with eco-friendly option.
Advantages of burlap jute fabric:
Burlap Jute is durable and can be used again and again and is therefore very environmentally friendly

Burlap Jute Bags 

have a very low CO2, water and eco footprint
Burlap Jute bags are very sustainable
Burlap Jute bags are ecological.
Burlap Jute bags degrade biologically in 1-2 years.
Burlap Jute bags are extremely strong.
Burlap Jute bags are trendy and hip!
Characteristics Jute:
Jute is a pure vegetable fiber, which is obtained in a complex manufacturing process.
Typical for jute is its tear-resistant and durable texture. It is breathable, biodegradable and the ideal material for the environmentally conscious.
Jute fabric is characterized by a rough and natural look and is used in particular for the production of decorations, sacks and bags.
Jute is well suited for sewing beginners as it is easy to cut and uncomplicated even when sewing.
Jute is not always washable and usually not suitable for tumble drying, but can be hot ironed in most cases.
---
We Also Recommend