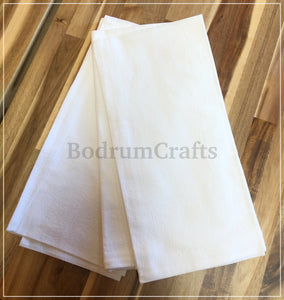 White Flour Sack Tea Towels in Bulk
Wholesale Plain Flour Sack Tea Towels, Kitchen Towel Sets in Bulk. Premium Cotton Flour Sack Tea Towels. Great for Embroidery, Screen Print, DGT Digital Print, DIY Custom Art Works, Kitchen Dish Towels and more. 

Product Details
Size: 28" x 28"
Material: 100% Pure Cotton
Highly absorbent, long-lasting, and dry quickly

VERSATILE Can be used as a tea towel, kitchen towel, monogrammed embroidery or as an all-purpose towel. This cotton cloth ideal for drying dishes, glasses, bar.
DURABLE Our kitchen towels are made of 100% natural cotton fabric. It offers high absorbing.
EASY TO CARE Machine wash cold and tumble dry low heat.