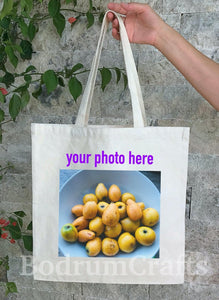 Set of 12, EcoPrint Custom Digital Printed Lightweight Cotton Tote Bags
BodrumCrafts offers custom printed lightweight cotton cloth tote bags at wholesale bulk prices with no minimum quantity. You can print any photos, designs, artworks, logo, pictures, monogram on our reusable bags. BodrumCrafts has a wide range of collections of blank reusable bags with quality screen printing service. All bags are printed in the USA. No Minimum Quantity.  

Please contact us for bulk qualities.
Printing Details
Set includes 12 printed bags
The bags price are included.

The prices are for one side.
The prices include setup and printing.

After order it, please send us your design as JPEG, TIFF, PSD format.
Bags Details
6 oz Cotton fabric,
Bag Size: 15"W x 16"H

22" reinforced self fabric
Versatile, reusable and eco friendly

Digital printing  ( DTG ) method is like a home or office printer. The colors of design or logo apply on the bag surface directly. The water based ink is used in this method. It can be got more detailed than the screen printing method. This method is ideal for designs, artworks or images including large amounts of colors. And also it is an economical option for a smaller quantity of bags. DTG provides fast printing service.
(c)BodrumCrafts. All artwork is original and is subject to copyright. Do not reproduce without permission.

Copyright © 2020 by BodrumCrafts. All Rights Reserved.